Favorite January Hairstyle Advices by Asheville Keratin Treatment Specialist and Hairstylist
Jola De Legge
Jan 08, 2021
"Our goal is to make your hair dream come true."
What I want to say, straight away, is that you need a fresh start to the year. I think the COVID19 pandemic was important to us to think about ourselves. We need to eat healthier, do exercises more, go on a trip, or to treat our hair. Great hair is always part of you which everyone will notice and we will always feel good about it. Great hair definitely can change your mood. If you see someone is having messy hair it means only one thing: "That person is not in a good mood, tired or doesn't have time to deal with herself". Are you a person who wants to look like that, tired, not in a good mood, or don't care about herself? 
Make changes to your hair routine. Shake up the year at the start. 
Do some treatments for your hair and enrich her with vitamins, and minerals. Give your hair strength, add shine, smooth her out without losing volume, and use natural formulas without gluten, paraben, sodium, or sulfate. 
Your hair deserves to shine. Don't forget to massage your hair from time to time or while washing. It will pay you off. 
I need to mention a few treatments that I usually use in my Hair Salon in Asheville. Here they are: 
1. De Legge Moisture Conditioner and Shampoo.
Conditioner:-
Sulfate & Paraben Free – Simply Soft and Pretty – Feel the difference moisture makes. This light-weight hydrating conditioner penetrates and seals the hair cuticle so color stays strong, shine turns on and hair is never weighed down. Sunflower seed extract provides shine and protection. Coconut milk proteins smooth and strengthen. Rhodochrosite seals the color and balances moisture. 
Directions: Apply to damp hair after cleansing & comb through to ends. Leave in for 2-3 minutes. Rinse thoroughly. 
Shampoo:-
Sulfate & Paraben Free – Rejuvenate, Strengthen, and Shine – This moisture-rich formula gently cleanses and hydrates hair, leaving it radiant and ready for anything. Powerful collagen-building properties act as a barrier to seal the hair cuticle protecting it from face and damage. Sunflower seed extract provides shine and protection. smooth and strengthen. Rhodochrosite seals the color and balances moisture. 
Directions: Massage into wet hair. Leave in for 2-3 minutes. Rinse. For maximum results, follow with Moisture Conditioner.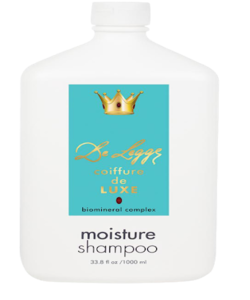 2. De Legge Le Deux and Styling Creme.
Le deux:-
Get straight or go curly. This product has a split personality. Use it to perfect the ultimate smooth blow-out or for hair with natural curl, achieve luscious defined curls. By building hair foam it's very structured, it fights styling damage and helps hold your style without stiffness or stickiness. Hair is always soft and touchable, however, you do it. Sunflower seed extract provides shine and protection. Sweet pea protein hydrates, smoothes, defines. Magnesium improves elasticity and hydrates. 
Directions: Style straight – Apply to towel-dried hair. Leave for 2 to 3 minutes and blow dry straight. Define Curls – Apply to towel-dried hair, working product through hair while finger-forming curls. Allow to air dry or use a diffuser. 
Versatile styling creme:-
Anything goes. Beautifully. This one-and-only cream has a unique power to work with ay style, texture, or hair length. Medium in strength, awesome in beauty. Great for any style that requires hold memory and support without stiffness. Protects from heat styling and makes split ends seemingly disappear, too. Pumping seed provides flexible strength and manageability. Kaolin clay extracts hold without stickiness and oil absorption. 
Directions: Apply through damp hair. Do not rinse, and style as desired. Dor sleek, controlled looks apply to damp hair and allow to air dry. Apply generously for more hold. Repeat on dry hair if desired. 
3. De Legge Shaping Hairspray.
3 in 1 Hairspray. Light, Medium, or High hold. Adjustable holding power is in your hands! This humidity-resistant, shaping, and control spray provide texture, natural shine, and touchable support. Add volume and strength in seconds with a hold that lasts all day. Sunflower seed extract provides shine and protection. Grape seed extract reduces frizz and improves the overall health of hair. 
Directions: Turn the nozzle left or right to achieve the desired hold. Light: Apply on wet hair for added shine and body or light hold on dry hair. Medium: Use on dry hair for shaping and as a working spray. High: Use on dry hair for finishing and extra hold. 
4. Lasio Keratin Treatment.
Keratin For All - Lasio One Day Formula is an extremely lightweight formula that works well on any client seeking curl reduction, elimination of frizz, hair repair, and moisture. Lasio One Day Formula lasts up to 4 months, contains. 02% formaldehyde, eliminates 100% frizz and reduces curls up to 90%.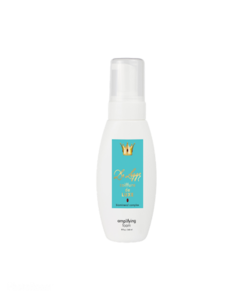 5. De Legge Light Amplifying Foam.
Amplifying Foam – Full-On fabulous –  For the bold and the beautiful. Boost hair with flexible fullness and gutsy style that lasts. And lasts. Frizz not and flake not – without worry about humidity or static. This light foam has a medium to firm powers that can lift roots and provide volume everywhere. Quinoa protein gives maximum fullness and Bentonite clay plumps, strengthens, protects. 
Directions: After shampoo and conditioner, apply sparingly to towel-dried hair, distributing thoroughly. Style as usual. 
6. De Legge Volume Shampoo.
Sulfate & Paraben Free – Fullness Starts in the Shower - Don't sacrifice your hair's health for height. Gently cleanse and revitalize your locks while amplifying volume with this nutrient-rich formula. Quinoa protein provides maximum fullness. Bentonite clay plumps protect and strengthen hair. 
Direction: Massage into wet hair with flat hands. Rinse Well. For maximum results, follow with Volume Conditioner. 
7. Amethyst Oil.
Amethyst Oil – Dull & Frizzy no more – Soft, smooth, glorious health. Hemp seed proteins fight flyaways and frizz, speed drying time. Amethyst gives luminosity and heat protection.
Directions: Put 1-2 drops (more for thick or very long hair) into the palm. Rub hands together, and work through from roots to ends before blow-drying, styling, or air dry. Work into dry hair for shine & finishing. 
8. Deep Repair Treatment. 
Fortify, Strengthen, and Repair Hair – A keratin-infused deep repair treatment that fortifies and strengthens hair that's color-treated, fragile, and prone to breakage. Sunflower oil and Malachite restore moisture, shine, and resilience while protecting hair from environmental stressors. Rhassoul, a mineral-rich clay, makes this a great treatment for even finer-textured hair. 
Direction: Apply to clean towel-dried hair and leave in for 5 to 15 minutes, then rinse. 
9. Edge.
Control, Definition, and Hold. Create that perfect edge for your look! Tome your mane with lasting control, definition, and hold. Use on wet or dry hair to give you control and keep your edge without flaking or frizzing. Water-based. Semi-matte finish. Rose Quartz shields against damaged and frizz. Hibiscus extract protects, conditions, and imparts shine. 
Directions: Emulsify in hands, then apply on wet hair and sculpt into place. Apply desired amount on dry hair for control, definition, and lasting hold. 
In De Legge European Haircut Salon in Asheville, you can buy all products for healthier hair.  I am a Keratin treatment Specialist based in Asheville, and I invite you all to visit me in my Hair Salon in Asheville. If you ever google an experienced hairstylist in Asheville near me, you will probably find my De Legge European Haircut Salon, and I am so lucky to have you in the future as my best client. 
I hope you like my blog post and that was useful to you. I am looking forward to telling you more I know about hair from my experience. 
Your Jola De Legge European Cut and Keratin Treatment Hairstylist