What Are The New Hairstyles & Hair Colors for 2021? | Asheville Hairstylist & Keratin Specialist
Jola De Legge
Dec 07, 2020
This year is almost over. December I will use to forget about terrible moments when we suffered from COVID19. I do not want to act as it is finished but I want to celebrate Christmas and New Year's Eve in the same old way we used to do it before.
How will I make it? 
While I was in a hair salon in South Asheville doing perfect haircuts and color I came up with the idea to present you with my choice for new hairstyles 2021.
I want to think about new hairstyles and new creativity that I can bring to New Year 2021. Doing hairstyles is my passion and I can always make myself happy doing what I like and now I can make it useful to all of you.
In 2021 I want all of you to have amazing hair and to find in this post inspiration for trendy ideas.
Let's shine through all New Year 2021.
1. BALAYAGE WAVY SHORT HAIRSTYLE
You can make so fashionable, trendy, and inspirational look choosing balayage wavy short hairstyle. Wherever you appear you will be noticed with this look.
2. GRAY OMBRE WAVY BOB HAIRSTYLE
A very modern hairstyle, wavy bob haircuts with balayage or ombre natural colors, will always be in trend. Do not miss this year to try different ombre or balayage colors that suit your face.
3. MERMAID LOOK HAIRSTYLE
Look at these different colors blue, purple, green, and violet all mixed. This is so perfect combination of colors defining the mermaid look. I think this is my favorite because I love to mix colors and make any hair more vivid. We are going to have a lot of mermaids this year, am I right?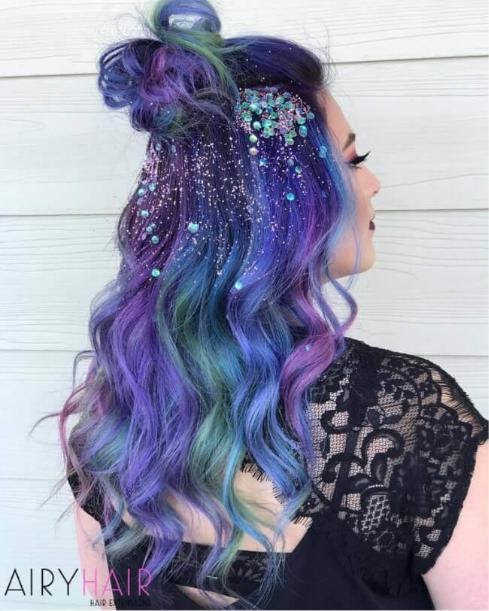 Credit: https://www.airyhair.com/blog/20-stunning-new-years-eve-christmas-hairstyles-2017/
4. VIOLET HAIRSTYLE
What I like about this color is that it looks so natural like you were born with this color but actually, we all know that is not true. With short hair, it is a great match. It feels like you are embracing yourself and individuality, having an unusual hairstyle. Oh, I wish that this hair color could be a trend forever. I chose this specific color for my 2021 inspiration and I can't wait to try it with my customers.
Credit: @bleachlondon
5. BOB CUT WITH LIGHT WAVES HAIRSTYLE
This is the prettiest hairstyle for 2021 because It attracts a woman who does not want to make hudge and brave transformations and this is a wonderful variant to try, to spice a little bit your look in 2021. There is no much to say but that it looks easy and soft on your face but still you can look different to yourself.
I hope you like my choice of hairstyle looks 2021. I chose for every woman that I care about something to unfold their power, individuality, strength, and beauty. Of course, I didn't forget about hair treatments and I could always recommend to you these products. Haircare is important and no hairstyle and color look too good without great treatment.
Try these products for good hair days and visit our hair salon for the perfect haircut and color in South Asheville.
De Legge coiffure de LUXE biomineral complex volume shampoo (1000 ml)
De Legge coiffure de LUXE biomineral complex mojsture conditioner (1000 ml)
De Legge coiffure de LUXE biomineral complex amethyst oil (60 ml)